Your Care | Your Health | Your Home
A Message from the Chair of the Restvale Board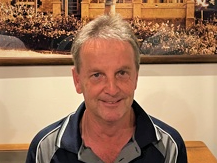 Chair, Restvale Board of Management
"If I have seen further, it is by standing on the shoulders of giants."
Isaac Newton's famous quote neatly encapsulates my own view of the manner in which Restvale's Board of Management chooses to administer this outstanding entity.
Restvale is proudly a community-owned, not-for-profit facility nestled deep in the heart of the beautiful Adelaide Hills township of Lobethal. Our corporate structure differs markedly to many other residential aged care facilities in that we are administered by a Board of Management as a not-for-profit home. It means that, unlike other aged care establishments, any operating surpluses are returned to Restvale for the benefit of its residents. This has given rise to a general sense of community ownership with locals relating closely to Restvale's operations as a consequence.
Personalised care of our residents is the primary driver behind all that we do at Restvale. We strive to create for each of them a homely feel, with our staff always prepared to do that little bit more for the Restvale family to ensure each day is special and meaningful.
Crucial to the development and nurture of that personalised approach are the environs – grounds, buildings, furnishings, and amenities that harmonise to imbue a congenial sense of a forever home for our residents. To this end we dedicate many months of careful planning to enhance Restvale's facilities. For example, we have recently committed to a $3 million dollar building redevelopment to begin in 2022.
This strategic investment in our future will result in two additional beds, a café precinct, a brand-new kitchen, and an outdoor deck, all of which will add considerably to the existing family atmosphere that is a distinctive feature of the Restvale lifestyle. Furthermore, designs have been finalised to update the rooms of each resident in coming years.
This is an exciting time for the Board and staff as we reinvigorate our vision of Restvale as a unique centre for uplifting care that fulfills and expands the horizons of not only those who live here, but their families and the people who work in support of them.
Impacting on us all has been Covid-19 and its associated variants. It has necessarily forced altered approaches to several day-to-day operating processes and procedures. Therefore, all Restvale staff are now fully vaccinated, and only the fully vaccinated are permitted entry to our facility. It is our assurance that the safety of our precious vulnerable residents remains paramount. It is also a government-mandated requirement which we are obliged to thoroughly implement.
As Chair of the Board of Management, I would earnestly commend to your consideration Restvale as an option for those in your family seeking a caring, professionally maintained facility set amid the natural beauty and serenity of the Adelaide Hills.
Our staff are always available to discuss with you care options and financial arrangements. Tours of our facilities may be arranged on request.
I am so proud of our beautiful little gem that is Restvale. It is different to other homes run by some corporations, but it has what they do not have – a haven that our residents genuinely call home, replete with amazing staff who care deeply, and who willingly go the extra mile.
Restvale is a place held in high regard by our local community. The significant effort expended by our many loyal friends in that close-knit neighbourhood in arranging the famous Restvale Pasty Bake fundraiser each year is a tangible indicator of the strength and abiding goodness of the warm embrace of neighbourliness we enjoy. The esteem in which we are held by Lobethal families is founded on elevated levels of trust. We have earned that trust over past decades of caring for their loved ones.
Ours is an awesome responsibility: to live up to that reputation, and to advance it in the best interests of future generations of residents. Our strength is our care, and we do genuinely care – deeply. It is embedded in our culture. It is part of our character. It was Abraham Lincoln who said: "Character is like a tree and reputation like its shadow. The shadow is what we think of it; the tree is the real thing."
There are those who plant trees under whose shade they never expect to sit. Restvale is such a tree. Our Board and our staff are proud to be working collaboratively and purposefully in the pursuit of that ideal; for it is to the long-term benefit of those who matter most – our residents – and those who are yet to come.
Jim Hennessy
Chair, Restvale Board of Management