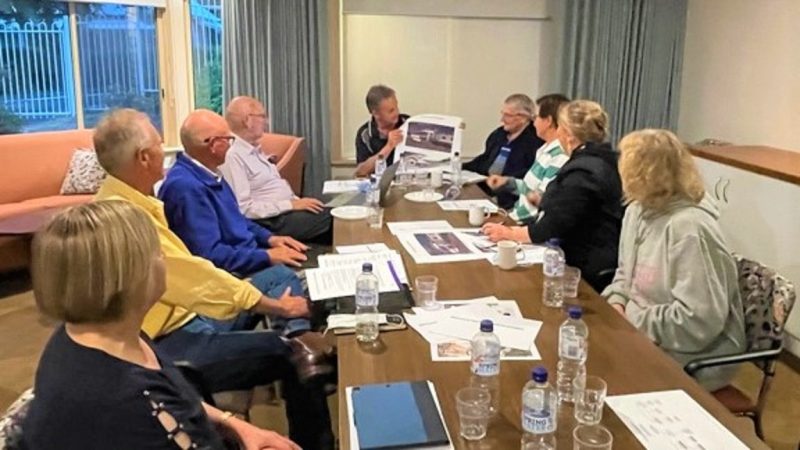 Restvale is governed by a Board of conscientious, hardworking volunteer members who believe in the care and lifestyle of our residents. Profit is not our key driver – our residential family is.
The health, wellbeing and comfort of our residents is our number one priority. We place the people we care for at the forefront of every decision we make with the aim of enhancing the wellbeing of our residents and giving families and friends peace of mind.
The Board consists of people from diverse backgrounds ranging from health, engineering and manufacturing to business ownership, law, management, community engagement and business consulting. We also have a Uniting Church representative to support the values and spiritual guidance of Restvale, and a staff member to contribute an employee and patient voice. It is also a Board requirement that 80 per cent of its membership must reside in the Adelaide Hills Local Government Zone.
Jim has served on the Restvale Board for the past six years. He has run his own small business for the past 36 years. He has been involved in many community groups in the Adelaide Hills and is passionate about improving its infrastructure and facilities. Jim is keen to ensure Restvale is around for the next generation with continued improvements.
Deputy Board Chair and Chair building committee
Ken has been a member of the Restvale Board since 2018, formerly holding the position of Board Chair. He has had an extensive career spanning 37 years in automotive manufacturing at a senior level, four years with the South Australian Government's Department for Industry and Trade, and ten years' consulting at an executive level to a range of companies. Ken is especially  committed to seeing the planned renovation of Restvale come to fruition.
Chair community engagement and marketing, board member
Sue is an award-winning leader, businesswoman and educator. She runs a boutique consulting business (Reinventure Australia) focussing  on reinvention strategy for organisations, communities and professionals. She also lectures MBA students on topics such as Business Consulting, Digital Marketing and Business Communication. Sue is highly supportive of Restvale's objective to continue its operation as a sustainable entity that keeps reinvention at the forefront without losing sight of the need for human connection. 
public officer, board member
Jill has practised as a solicitor in Lobethal for 45 years and has  been a member of the Board spanning two decades, including a three-year term as Chair. Her legal practice has a particular emphasis on the elderly which enables her  to contribute as a Board member in the areas of governance and legal issues as they affect Restvale and its residents. Jill  is also actively involved in the local Anglican Parish and its associated Opportunity Shop which regularly donates to Restvale.
Ross Leckie has been a farmer and business operator in the Lobethal area for over forty years . He served for six years on the National Board of a major Rural business and is currently very involved in a number of local voluntary organisations. Ross has been a Restvale Board member for the past four years.
Margaret has worked for the South Australia's Department for Education for nineteen years in different roles, including finance positions. She was the Business Manager of the Lobethal Lutheran School for three years, as well as Payroll Manager for a private school. Margaret was also a director for the Ashton Co-operative Cold Store, and managed the books for the family business.
Her mother was a resident of Restvale. Margaret has been contributing her services and using her skills for Restvale for nearly ten years.
Ken joined the Board in 2022. He comes from an extensive  background in national and international business focussed on irrigation, sales, manufacturing and distribution and has held senior positions in listed business. 
He looks forward to making positive contributions to the future of Restvale.
Brian is a pastor at the Lobethal Uniting Church. He has taken services at Restvale for fourteen years, and has enjoyed the love and support of the staff and residents over those years. Brian has been on the Board for three years and deems it a privilege to serve as a resident of Lobethal.
Necia has been a staff member at Restvale since 2001, joining the Board of Management in 2007. Necia previously worked at the Onkaparinga Woollen Mill forging a strong connection with the local Lobethal community. Necia is passionate about Restvale and the care provided to its Residents and ensuring that Restvale is around well into the future.